Central undone in Scott Miller title game
West wins 9-2, Bay Reps fall 3-0 in final day of tourney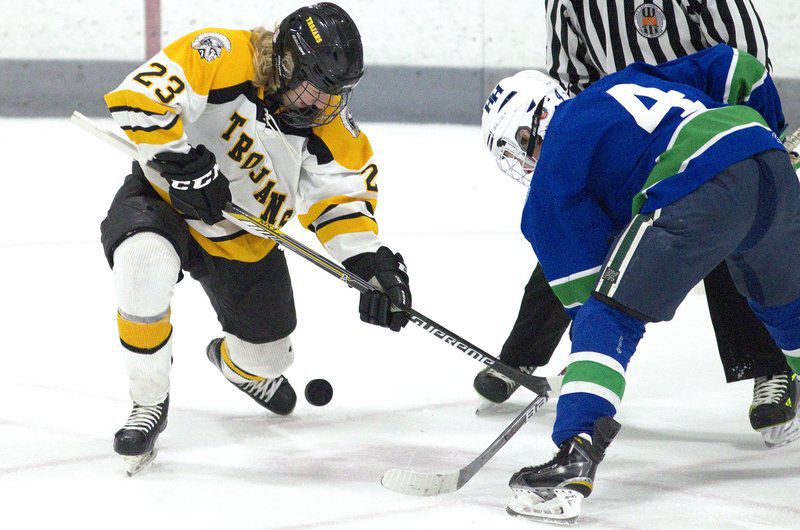 Record-Eagle/Tessa Lighty
Traverse City Central's Scott Klavon (23) and Heritage High School's Samuel Spaedt (4) face off for the puck during the first period of the hockey game at Centre Ice Arena in Traverse City on Friday.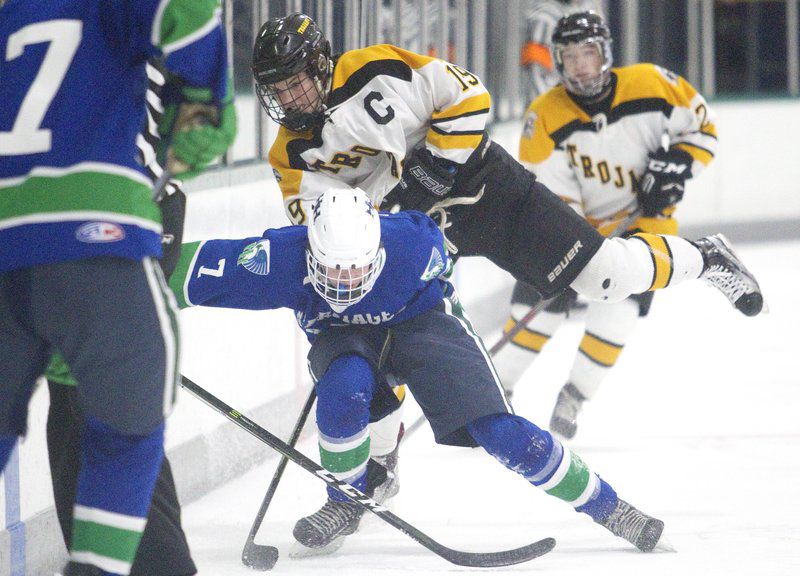 Record-Eagle/Tessa Lighty
Traverse City Central's Will Beattie (19) and Heritage High School's Brady Rappuhn (7) skate for the puck during the second period of the hockey game at Centre Ice Arena in Traverse City on Friday.
TRAVERSE CITY — The Traverse City Central Trojans came into the Scott Miller Memorial Holiday Hockey Tournament at 2-6 and as a team struggling to find its identity.
Although Central dropped at 3-1 decision to Saginaw Heritage in the championship game, the Trojans left Centre ICE Arena Friday night as a much-improved team feeling confident about the rest of the season.
Central knocked off University Liggett 5-3 behind Barrett Bishop's hat trick in round one and defeated a tough Midland team 5-3 in the semifinal to reach the title contest against Heritage.
"We had our share of struggles, especially in December against some good teams. So to come out and pick up a couple of wins against good teams (was important)," Central head coach Chris Givens said. "It's hard to complain still now in December as we're kind of still trying to find our way. But from a couple weeks ago, we've definitely seen some progress, and I think we're moving in the right direction."
Traverse City West bounced back from a heartbreaking 3-2 loss to the rival Traverse City Bay Reps in double overtime Thursday night with a convincing 9-2 victory against Toledo St. John's. The Reps, however, could not carry their momentum over and lost 3-0 to University Liggett.
Central allowed single goals in each period before junior Noah Kendra finally got the Trojans on the board to cut it to 3-1 with nine minutes left in the game.
"It's a combination of the team making progress as a whole," Givens said. "It's one unit. We've got some individual players making improvements, which is good to see. I can sit here and complain about losing the game, but there's enough bright sports and improvements that we're happy."
The head coach was also pleased with how the team finally seems be coming together as a cohesive unit, and he said that needed to come from players.
"We can steer them in the right direction, but it's on them to put it into practice," Givens said. "A lot of our more experienced players and older guys said, 'Look, we've got to start doing things differently.' That's showing. It's about this time you start to see things turn the corner. We'd be foolish to sit here and be too disappointed."
The 3-1 final brought to a close the three-day, eight-team tournament hosted by Central. Givens said he was happy to once again have the opportunity to play talented teams in that environment.
"It's a great field," Givens said. "There are a lot of good competitive games. You've got a lot of teams coming up here giving us three games out of a 25-game schedule of high school hockey. We appreciate those guys coming. It was another great tournament."
Titans 9, Toledo St. John's 2. Five second-period goals helped West pull away from St. John's and wash the bad taste out of its mouth after the loss to the Reps.
Joel Cerny, Zak Johnson and Andrew Rickenberg each scored a goal in the second, and Mark Alekseykov lit the lamp twice for the Titans for a 7-2 cushion after 34 minutes of play. Rickenberg and Johnson also scored in the first, and Zach VanAntwerp and Evan Wilson capped off the scoring with goals in the third period.
"It was spread out pretty well," West head coach Jeremy Rintala said. "It was good to see three lines perform well for us. We've been relying on one line to do a lot of the scoring lately, but today we had a nice team effort and had other guys step up."
Three Titans scored four points in the victory. Alekseykov added a pair of helpers to his two goals, and both VanAntwerp and Wilson had three assists to go with their scores.
"We had a good bounce back after (Thursday)," Rintala said. "We made some nice plays. We moved the puck well and had some backdoor plays and 2-on-1s in the offensive zone. We made some nice plays in the neutral zone to get guys open. It was a nice rebound after a disappointing loss."
The head coach laid down a challenge to his players after the double-overtime loss, and they responded with the blowout victory.
"We just told them it was a new day," Rintala said. "We've been playing well with the exception of part of (Thursday). So let's go back to what we do and take something positive out of it and make the best of the weekend."
The Titans could use a little momentum as Big North Conference play is right around the corner and the North/South Showcase is set for Jan. 13-14.
"We've just to keep moving forward, now," Rintala said.
University Liggett 3, Bay Reps 0. The Reps might have been slightly drained after the double-overtime win against West, and it showed in the shutout loss to Liggett, according to head coach Ryan Fedorinchik.
"Losing is never fun," Fedorinchik said. "We wanted to end the week on a good note. It was an emotional win last night. We were feeling pretty good about ourselves. We wanted to keep that train rolling, but we just came out flat. We never got anything going in three periods."
The Reps went into Friday's game physically and emotionally drained as well as understaffed and injured.
"I definitely don't want to use that as an excuse, but I think a case can be made for that," Fedorinchik said. "Three games in three days. Everybody was playing. We had guys playing more than they had. We were trying to scratch it out any way we could. It was like we were stuck in neutral."
The play of goalies Kam Lannen and newcomer Dominic Nittolo encouraged the head coach, however.
"They did everything they could to keep us in it. Just give us a chance," Fedorinchik said. "They both did an excellent job of that. They need to be commended for that."
Fedorinchik expects seniors Scott Crawford and Zach Vancompernolle to return soon, which should give the Reps a boost.
"We like what we have. That was the message. What we need is here — it's in this locker room," the head coach said. "But it's the want and desire. We need to have that want and desire to do the little things and get better everyday. Winning those battles is going to translate to success."